Join me each month for a morning coffee break on Zoom before your work day to talk about all things digital marketing.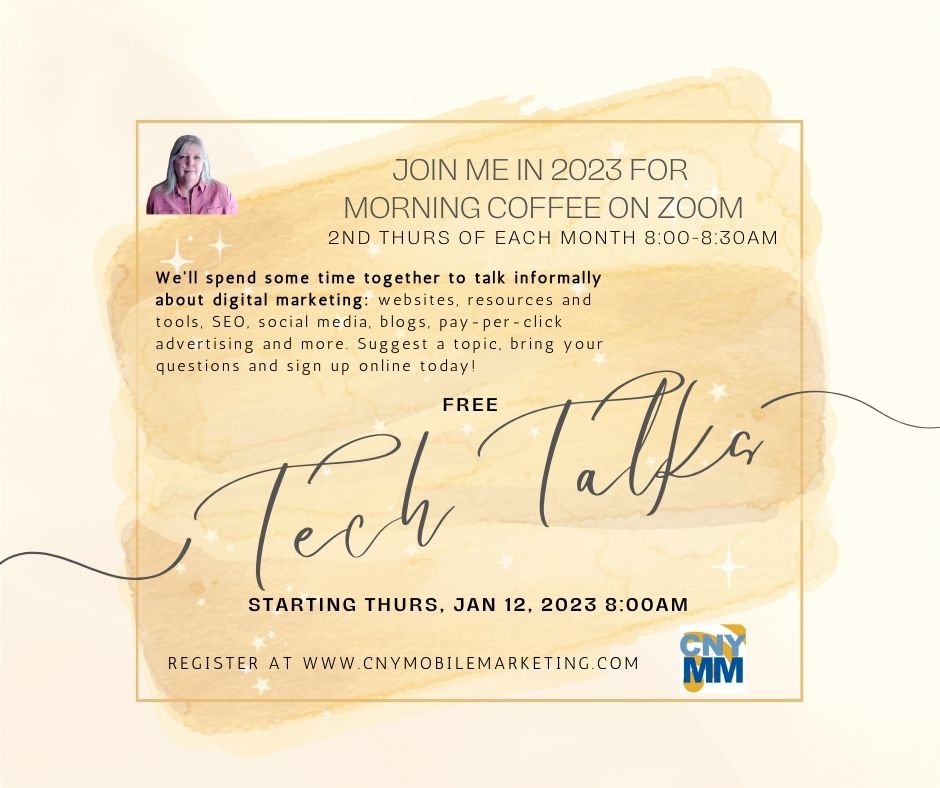 We're excited to announce our new TECH TALKS monthly program. Bring your digital marketing questions! We can discuss different topics and learn from each other in this short half-hour zoom meeting over a cup of coffee together before we start out day.
Topics will include websites, directories, blogs and articles, content, SEO, resources & tools, social media, pay per click ads and more!
Our first session will be held on Thursday, January 12, 2023 from 8am-8:30pm.
Dates for Winter/Spring 2023:
Jan 12, 2023 8:00am
Feb 9, 2023 8:00am
Mar 9, 2023 8:00am
Apr 13, 2023 8:00am
May 11, 2023 8:00am
Use the form below to subscribe and attend Tech Talks.
You will be taken to our Thank You page where you will find the Zoom registration link for Tech Talks. Feel free to ask a question in the form or suggest a topic!

You can register once and join with the same link anytime you like.

Registrants DO need a free zoom account so that emails can be authenticated (to reduce spam registrations).

If you are not already on our list, we use double opt in for our subscribers, so you will also receive an email to confirm your subscription to our Bits & Bytes Newsletter.